The Basler a2A1920-160umBAS USB3.0 camera with the Sony IMX392 CMOS sensor delivers 160 frames per second at 2.3 MP Resolution.
a2A1920-160umBAS : ace 2 Basic
ace 2 Basic
Demonstrated Basler unwavering quality with broad PC vision list of capabilities for standard machine vision applications.
The features of the pro 2 Basic initially:
Upgraded equipment meets cutting edge CMOS sensor innovation from Sony
Incredible Computer Vision list of capabilities
Basler ace 2 Series
One camera game plan, two item contributions. Consistently the right choice! Welcome to the accompanying master age!
Gainful customer analysis and wide experience from the primary expert age are participated in this new pro 2 camera plan. Modified to your particular vision needs, the two item contributions, master 2 Basic and ace 2 Pro, offer grand picture quality appreciation to state of-the-art CMOS sensor development from Sony, improved firmware and hardware with GigE or USB 3.0 interface, an upgraded connection portfolio, basic managing and joining similarly as likeness with Basler's expansive decoration portfolio. The differentiation between
the two expert 2 item contributions lies in the organized features: a weighty Computer Vision rundown of capacities for standard vision needs or the unique new Beyond features from Basler for all the all the more mentioning endeavors with most prominent execution. Your bit of room: you pay for what you genuinely need.
An overview of the Basler ace 2 camera series
Two product lines: ace 2 Basic and ace 2 Pro – tailored to different vision needs
Currently eight models (four per line) featuring IMX392 sensor from Sony, 2.3 MP resolution and frame rates of up to 160 fps
Small housing with proven 29 mm x 29 mm footprint
New, optimized hardware design with status LED on the back, improved mount, removable IR cut filter and robust M8 connector
New firmware concept
Fast and cost-effective software integration
Top price-performance ratio
nown reliability and longevity of Basler products with 3-year warranty
Compatible with Basler's affordable accessory portfolio
Easy integration thanks to the 

pylon

 Camera Software Suite from Basler
Mechanical drawing for a2A1920-160umBAS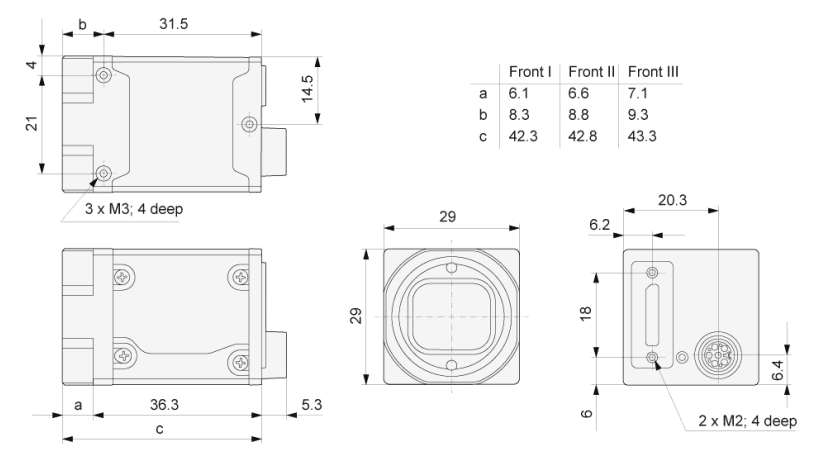 Products– Cameras, Powerpacks, Accessories, Software
Basler offers you a huge determination of modern and system cameras and adornments for applications in industrial facility robotization, traffic frameworks, retail just as therapeutic and life sciences.
Basler's broad involvement in the field of camera plan and camera generation is reflected in the high picture nature of our territory examine, line sweep and system cameras, just as PowerPacks. All cameras are tried and aligned to satisfy our exacting quality guidelines, guaranteeing reliably solid execution and unwavering quality.
Accessories and Software To get ideal execution from our cameras, we prescribe utilizing excellent embellishments tried for similarity with our items. Our frill database gives an advantageous method to locate the correct adornment. You can likewise utilize our no-cost arch Camera Software Suite to get your Basler camera fully operational at its full usefulness rapidly and effectively.
a2A1920-160umBAS | a2A1920-160umBAS | a2A1920-160umBAS | a2A1920-160umBAS | a2A1920-160umBAS | a2A1920-160umBAS | a2A1920-160umBAS | a2A1920-160umBAS